Celebrate International Day of the Girl Child with Lyfta
Thursday 11 October is International Day of the Girl Child, a day which aims to highlight the challenges girls face, while promoting their empowerment and the fulfilment of their human rights. The theme for this year's International Day of the Girl Child is With Her: A Skilled GirlForce.
Log in to your Lyfta account and visit the Awra Amba Experience to find out about Tsehaynesh, who was forced to leave school at a young age. Now in her teens, Tsehaynesh shares her commitment to continuing her education, and talks about how she found the supportive community of Awra Amba as the right place to do so.
Click on the school on the illustrated village landscape or the Awra Amba map, to explore and start a discussion with your class.

Watch a short documentary where Tsehaynesh talks about her life and about how she achieved her goal of continuing her studies, despite the challenges she faced.

Discuss the 'right to education' which is part of the UN Convention on the Rights of the Child, and what this means for girls in different parts of the world.

Explore the barriers to receiving an education for boys and girls in different contexts at home and around the world.

Use Tsehaynesh's story as a backdrop for diary-writing activities that consider her thoughts and feelings about finally being able to go to school and what it means for her future.

Use Lyfta's Lesson and Assembly Plans which contain ideas to help you maximise the Awra Amba Experience. You can download the Awra Amba Teacher Guide here, where you'll find the relevant lesson plan on pages 23-24. You can also download an assembly plan when you log in.
With multimedia content and real-life stories, the Awra Amba Experience provides a powerful introduction to the challenges girls can face at home and around the world, particularly in relation to the right to education and learning opportunities.
Password reminder for logging in
If you've forgotten your Lyfta password, please click here to set a new one.
If you have any questions
If you'd like to get in touch with us, the easiest way is to click the little chat box on the bottom right of the page and send us a message. Be sure to include your name and email address so we can respond! :)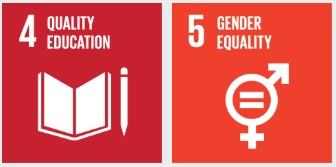 United nations

SUSTAINABLE DEVELOPMENT GOALS
UNITED NATIONS SUSTAINABLE DEVELOPMENT GOALS
In 2015, UN countries adopted the 2030 Agenda for Sustainable Development and its 17 Sustainable Development Goals (SDG).
This lesson ties in nicely with SDG 4 and 5, which are all about quality education and gender equality, at all ages.
We at Lyfta believe that it is imperative for our children to know what the SDGs are and to feel empowered to make a positive contribution to a better and more sustainable world.